National Fair Housing Alliance "2023 Fair Housing Trends Report" Finds Highest Rise in Complaints
Blog
The National Fair Housing Alliance (NFHA) released their most recent report, "2023 Fair Housing Trends Report", which is part of their series of annual reports dating back to the mid-1990s. Their recent report covers fair housing complaint data for 2022, highlights fair housing cases that were settled in FY2022, and policy recommendations to combat the increase in complaints. Data collected for their report is from fair housing complaints from the U.S. Department of Housing and Urban Development (HUD), state and local Fair Housing Assistance Program (FHAP) agencies, and the U.S. Department of Justice (DOJ).
REPORT HIGHLIGHTS:
There were 33,007 fair housing complaints in 2022.
Overall complaints were 5.74% higher than the previous year.
Private, non-profit fair housing organizations processed 73.94% of complaints, FHAP agencies processed 20.15% of complaints, HUD 5.80% of complaints, and DOJ 0.11% of complaints.
Discrimination based on disability continues to be the majority (53.2%) of complaints filed.
There were 2,490 complaints based on sex, the highest since 2005. Data started being collected for discrimination based on sex in 2005.
There was an increase in complaints based on source of income and domestic violence.
On March 16, 2022, President Biden signed into law the Violence Against Women Act (VAWA) Reauthorization Act of 2022 which protects survivors of domestic violence who are applying for or in housing programs.
FAIR HOUSING COMPLAINT DATA FOR 2022
HUD Region 9 (California, Nevada, and Arizona) processed the largest number of complaints. HUD Region 5 (Minnesota, Wisconsin, Michigan, Illinois, Indiana, and Ohio) processed the second highest number of complaints. HUD Region 10 (Washington, Oregon, Idaho, and Alaska) processed the third highest number of complaints. The number of complaints does not reflect the populations of the regions.
There were 5,622 complaints (17.03% of all complaints) based on the category "other" which includes: source of income (2,395 complaints); marital status (280 complaints); age (308 complaints); domestic violence (289 complaints); sexual orientation/gender identity (350 complaints); criminal background (352 complaints); military status (34 complaints); retaliation (250 complaints); and immigrant status/citizenship (82 complaints).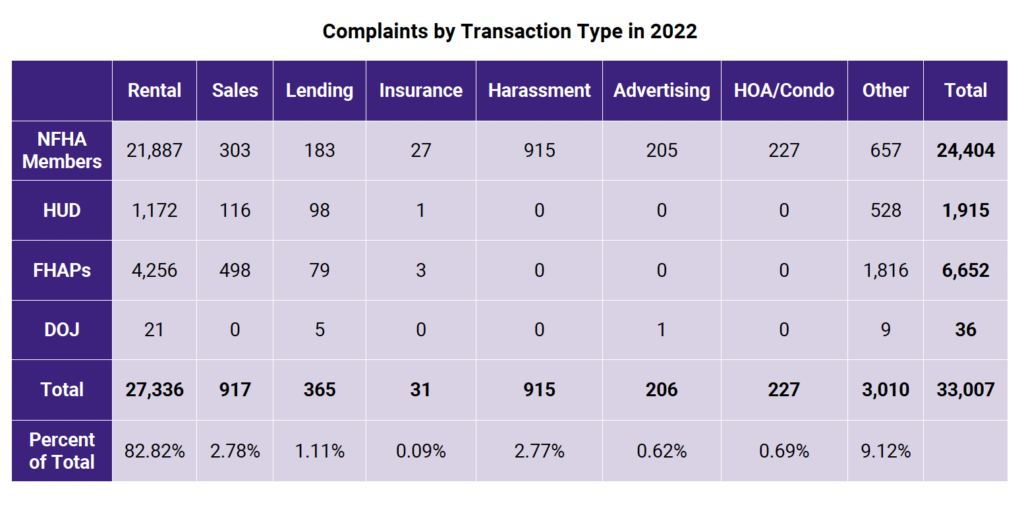 There were 27,336 complaints (82.82% of all complaints) from rental transactions. Primarily due to this type of transaction being the most frequent and simple, making it easier to identify or suspect discrimination. The second highest number of complaints (3,010) were from "other" transactions which includes but not limited to discriminatory advertising by housing providers.
The report highlights fair housing cases for 2022, completed by FHAPs, DOJ and HUD. These cases make us aware of the issues and challenges people face daily in the housing market due to discrimination. Challenges and issues faced include but are not limited to: appraisals; mortgage lending; rental ordinances; design and construction; accessibility; advertisement; housing provider rules and policies; redlining; land use and zoning; sexual harassment; and denial of housing assistance. Redlining has prevented eligible Black and Latino homebuyers from obtaining homeownership. Exclusionary zoning laws have worsened racial housing segregation. Biases in technology has created obstacles for home seekers in the tight market.
Even with the 33,007 record number of fair housing complaints, the report mentions that most housing discrimination still goes undetected or unreported. Discrimination in housing is not always obvious, making it harder to identify or document. Low-income and minority communities continue facing difficulties in housing, lending and building home equity. The report also emphasizes how the COVID-19 pandemic and shortage in rental properties and homes have additionally impacted disparities in housing.
We need to continue addressing systemic barriers that are preventing equal opportunity for all in housing. Fair housing supports a fairer and inclusive community. The report makes us aware of the increase in fair housing complaints and how we can better prioritize fair housing and lending practices. This can be accomplished by increasing funds for agencies that are dedicated to ending discrimination in housing.